Open House at Restaurant Werdguet
Novembere 27, from 19.00 h - Non members are welcome!
Knock Knock.
Who's there?
Pasta!
Pasta who?
Italian chef who pasta away.
If you are in the mood for pasta, you are in the right restaurant tonight, even though it's not an Italian restaurant. Do you want to come out for an evening to have a drink or a meal and visit with members of ESCZ speaking English? Then join us for the evening, stay as long as you wish. Non members are welcome!
We meet at our "Stammbeiz" Restaurant Werdguet.
How to get there, see frame below.For any questions contact Barbara by SMS on mobile 079 582 19 48 (answering machine is out of order) or by e-mail merk.barbara@gmail.com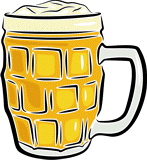 Location/ address: Restaurant Werdguet, Morgartenstrasse 30, 8004 Zurich.
The restaurant Werdguet can be difficult to find. Those coming for the first time are recommended to take tram 9 or 14 to Bahnhof Wiedikon. Cross the street so that you are on the opposite side to the Wiedikon station entrance. Then walk back down Birmensdorferstrasse towards Stauffacher until you see Morgartenstrasse on the right hand side. Walk down Morgartenstrasse and you will see the restaurant Werdguet on the left hand side at the first corner.